SmartTab Presents in the Startup Health Festival at ViVE Miami
By Sacha Heppell - February 19, 2022
MIAMI—SmartTab, an innovator in the wireless drug delivery industry, will attend and present at the
StartUp Health Festival
taking place alongside the industry's new health information technology event,
ViVE
, from March 6-9, 2022 in Miami Beach.
SmartTab will present on the Health Transformer Stage among the top startups focused on solving the world's biggest health challenges.
ViVE is bringing together C-suite executives, senior digital health leaders and buyers, health startups and investors, government and solution providers to advance healthcare.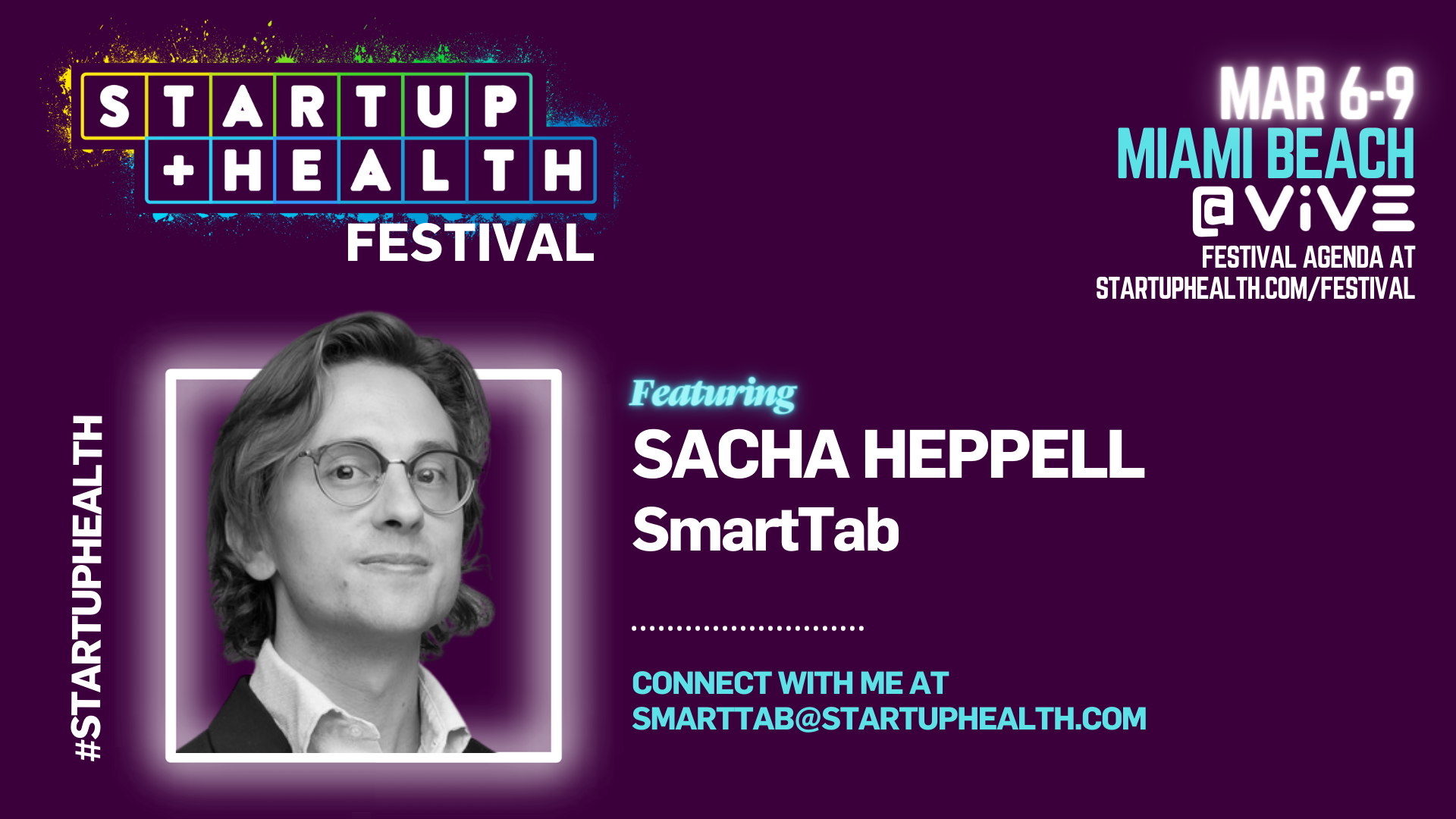 SmartTab will be interviewed for Startup Health TV and on the Startup Health stage over the four days. Sacha Francois Heppell, Chief Marketing Officer of SmartTab will be speaking on Tuesday, March 8, 1:30-2pm highlighting SmartTab's story and the latest progress of the InjectTab™ oral biologic delivery capsule. The conference will rally a global group of Health Transformers™ who are reimagining the future of health. One-to-one meetings will take place with investors and pharmaceutical partners.
SmartTab has participated in the Startup Health Festival since 2017. Most recently, Robert Niichel, Founder//CEO of SmartTab presented at the Startup Health Festival at J.P. Morgan Conference in 2020.
The ViVE conference combines CHIME's leadership with the digital marketplace of HLTH to create a technology event focused on the business of transformation in healthcare. ViVE will provide a fresh, curated education and networking experience for digital health leaders, disruptors and influencers.
About SmartTab
Veloce Corporation (dba "SmartTab" or the "Company") is currently engaged in the design, development and validation of next generation ingestible capsule drug delivery systems. InjectTab™ is a microneedle capsule with sensors and microprocessor that confirm ideal positioning of the capsule and deliver life saving biologic medication through an oral route of administration. Based in Denver, Colorado, it operates from their world-class innovation center for patient-centered delivery systems. https://www.smarttab.co/
About Startup Health Festival
Since 2011, the StartUp Health Festival has gathered thousands of CEOs, investors, world leaders and entrepreneurs to focus on solving the world's biggest health challenges. For the first time, the StartUp Health Festival will take place alongside the industry's new health information technology event, ViVE, from March 6-9, 2022. Two stages will feature a roster of speakers, including StartUp Health's Health Transformers: https://www.startuphealth.com/portfolio
About ViVE
Developed by healthcare transformation leaders HLTH and CHIME, ViVE is an annual event intentionally designed for progressive digital health leaders innovating across the spectrum of health and care. ViVE offers an immersive environment for gaining insight into and networking with digital health's disruptors and influencers. With its emphasis on community, creativity, productivity, flexibility, and new ideas, ViVE is where the digital health community will come together to impact the transformation of health and care. ViVE's inaugural event will be held March 6-9, 2022 in Miami Beach, Florida. Viveevent.com
About CHIME
The College of Healthcare Information Management Executives (CHIME) is an executive organization dedicated to serving chief information officers (CIOs), chief medical information officers (CMIOs), chief nursing information officers (CNIOs), chief innovation officers (CIOs), chief digital officers (CDOs) and other senior healthcare IT leaders. With more than 5,000 members in 56 countries plus two U.S. territories and over 150 healthcare IT business partners and professional services firms, CHIME and its three associations provide a highly interactive, trusted environment enabling senior professional and industry leaders to collaborate, exchange best practices, address professional development needs and advocate the effective use of information management to improve the health and care in the communities they serve. For more information, please visit chimecentral.org