SmartTab Presents to Students and Faculty of the Healthcare Engineering School at Texas Tech
By Sacha Heppell - April 08, 2021
The SmartTab team presented a lecture titled "Advancing High Tech Drug Delivery Systems" on Tuesday, April 6th 2021 to the Healthcare Engineering students and faculty of the Edward E. Whitacre Jr. College of Engineering of Texas Tech University led by Chief Technology Officer, Dr. Douglas Miller.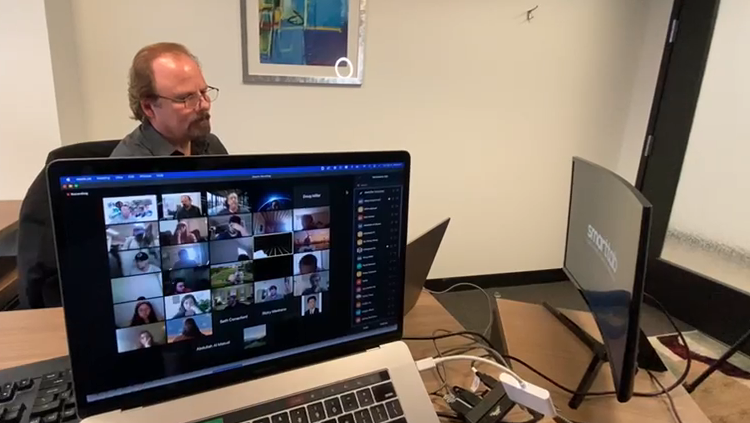 SmartTab was invited by Dr. Ming Chyu to showcase their innovations in wireless drug delivery and smart engineering technology behind their products. Dr. Ming is a Professor of the Department of Mechanical Engineering, at Texas Tech University and an Adjunct Professor of the School of Medicine, at Texas Tech University Health Sciences Center.
The lecture began with a video about the SmartTab mindset as a Startup Health company, determined to transform healthcare outcomes and optimize drug delivery for the next generation. Including a video summary of SmartTab's PK Pre-clinical Animal Study of TargetTab showcased the successful trial findings. Robert Niichel gave an overview of the company about their plans for growth and deep commitment to patient-centered innovation. Dr. Douglas Miller shared then took to the mic to present the SmartTab platform and went into great detail about the engineering behind the novel delivery platform. Dr. Miller engaged in an engaging Q+A for the remainder of the lecture. The participants asked great questions that stimulated an eye opening discussion. The experience benefited everyone involved and connecting with potential talent who can help lead SmartTab's future growth.
The lecture titled, "Advancing High Tech Drug Delivery Systems" covered an introduction to wireless ingestible drug delivery systems, which allow for precise location targeting and efficient delivery of medication to reduce the risk of side effects and increase dosage effectiveness. It featured SmartTab's TargetTab™ revolutionary capsule technology which uses radio-frequency signaling to trigger an optimal release of the pharmaceutical contents to specified regions of the gastrointestinal tract. Also, featuring the evolution of the platform InjectTab™, a biotherapeutic drug delivery technology in the form of an injection capsule and MultiTab™ a multi-dose capsule.
Healthcare Engineering Option at Texas Tech
The Healthcare Engineering Option in the Master of Engineering Degree curriculum leading to the Master of Engineering (M.Eng.) degree with an option in Healthcare Engineering (MEHE) at Texas Tech is designed to meet the growing demand for trained engineers who are able to apply the principles of engineering, health sciences, and business administration. These engineers effectively manage the physical, technological, and supports services of healthcare facilities, in order to optimize the safety, quality, efficiency, accessibility, and cost effectiveness of healthcare delivery processes and healthcare systems. Learn more about the healthcare option at Edward E. Whitacre Jr. College of Engineering of Texas Tech University.
Contributing to the Next Generation of Healthcare Engineering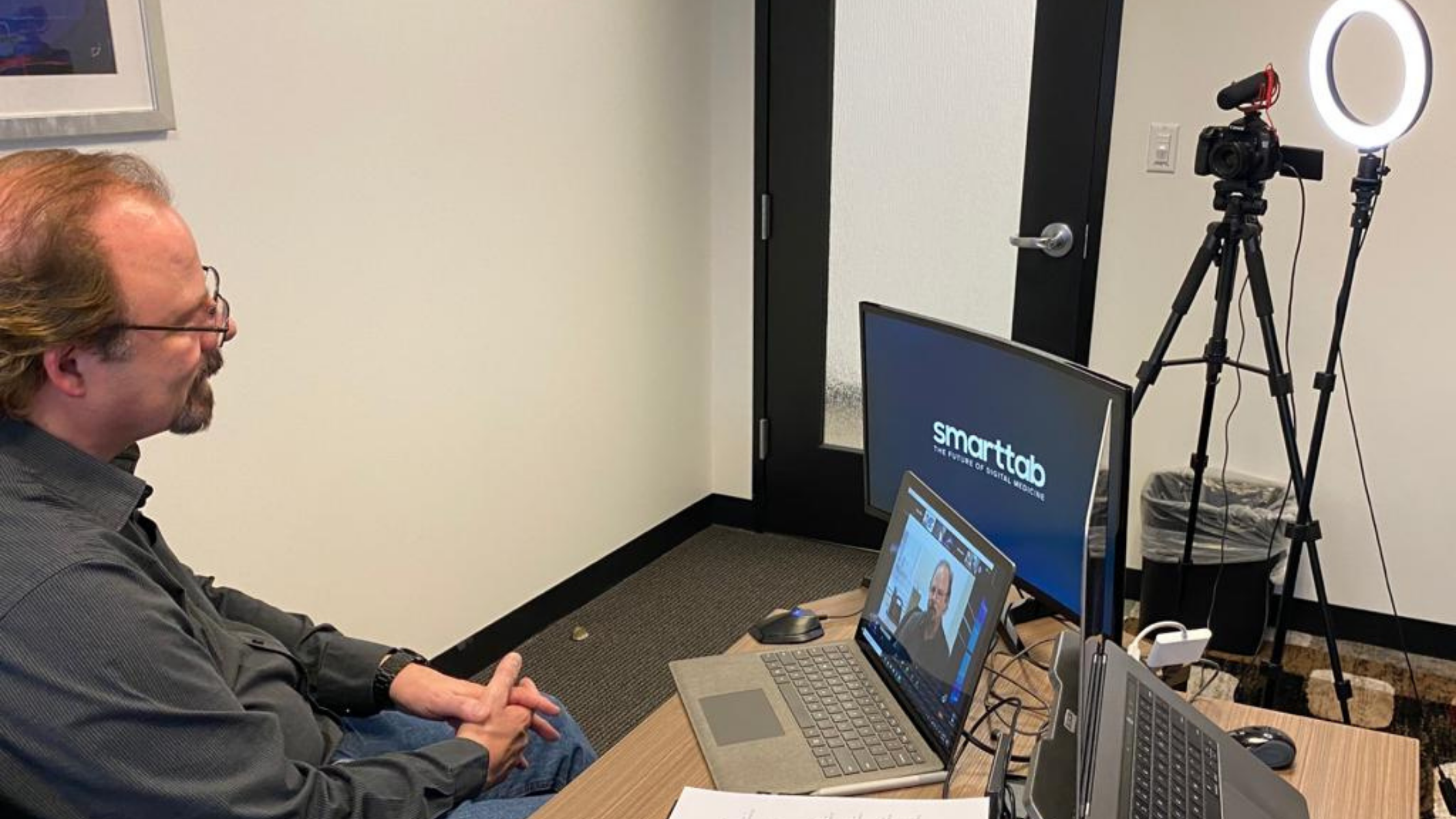 Dr. Douglas Miller presents lecture over zoom to the students and faculty at Texas Tech Healthcare Engineering School.
SmartTab has presented to other healthcare engineering programs throughout the country including the Colorado School of Mines Bioscience and Engineering School. SmartTab is committed to contributing to preparing engineering students for jobs/careers in the healthcare industry and creating long-term collaboration with world-class universities as we take more innovative approaches to bridging the gap between healthcare and engineering.
"We are proud to share our work with those who chose to dedicate their life's work to healthcare engineering and solving large scale problems. The talent coming from top tier schools are the driving force for SmartTab to integrate the most current advancements with high tech drug delivery systems."
SmartTab is currently expanding their engineering team and those interested can apply by visiting: https://www.smarttab.co/join-the-team
About Chief Technology Officer, Dr. Douglas Miller
Doug Miller, Ph.D., is the Chief Technology Officer of Velóce Corporation. He has over 25 years of experience in the medical device field including academic research, multi-national corporate R&D, as well as playing key roles in three previous start-ups where he was involved in founding and commercialization. He has more than 20 years experience in active implantable devices and over five (5) years in in-vitro diagnostics and pharmaceuticals. He has also led engineering, R&D, manufacturing, quality, and regulatory functions at the VP and director level, taking products from inception to market.
Dr. Miller holds several patents in the biomedical field and is a published author. He earned a B.S. in Electrical Engineering and an M.S. & Ph.D. in Electrical/Biomedical Engineering. He has overseen the development and validation of TargetTab™, a "smart" capsule that can be remotely triggered to release small molecule drugs at a targeted point in the GI tract.
About Founder//CEO, Robert Niichel
Robert Niichel, is the Chief Executive Officer and founder of Velóce Corporation. Along with his business acumen, he has an MS in Biochemistry and years of pharmaceutical research experience. He has over 15 years of leadership and management in Pharmaceutical Research and Development. Seven (7) years experience in due diligence and marketing for emerging growth companies within the hi-tech and biotech spaces. As the ZümXR Extended Release founder, he successfully raised capital, launched, and licensed an enterprise CPG company. Robert also successfully raised capital for Scientific Company Xtend Release while significantly expanding licensing revenues. Robert is committed to patient-centered innovation, building advanced pharmaceutical delivery technologies grounded in the concerns of the end users.
Based in Denver, CO, SmartTab is developing an ingestible, wireless, remote controlled capsule platform for patient-centered drug delivery. Three capsules are currently under development: TargetTab™, InjectTab™ and MultiTab™ — next-generation drug delivery for novel, effective therapies that improve patient outcomes and compliance.