The SmartTab Story: Uphill and Downright Genius
By Sacha Heppell - February 25, 2021
A mountain-born medical revolution that will transform the pharmaceutical industry forever
JUST FOUR YEARS AGO, Robert Niichel was sitting on his bike high on Vail mountain pass, staring out at the Rocky Mountains. Exhausted but loving life, he was towing his two kids on a ride—the scenery had him excited. The road stretched far ahead meeting the skyline with immaculate pine trees in the distance. He began pedaling after his rest. As he slowly tried to pick up speed the altitude and steepness of the road was overwhelming. Perhaps a little more sleep or maybe more coffee would've helped. With each pedal his mind started racing with ideas. Niichel is creative by instinct and an inventor by nature.. "Wouldn't it be nice if I could hit a button and get a caffeine kick right now" he thought. Just one sun-kissed, sweat-drenched bike ride is what sparked a digital medicine revolution.
Robert Niichel, the CEO and founder of SmartTab, an advanced drug delivery technology startup, is boldly combining wireless technology with active ingredient delivery. He's pioneering pharmaceutical delivery technologies with sports nutrition concepts, and this could transform the way our species takes medication. SmartTab has two products that may prove to be life-changing for millions of patients: TargetTab™—a pill that you can tell when and where it will release medication in your body and InjectTab™—a pill that can safely and painlessly give you a shot without a visit to the doctor.
Fearless Progression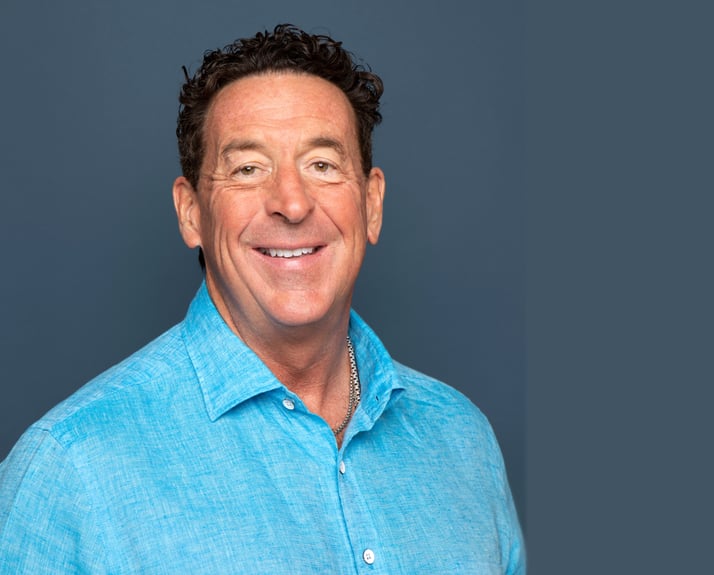 Robert Niichel at SmartTab headquarters based in Denver, Colorado at the Catalyst Health Tech Innovation Center
Robert Niichel, healthcare entrepreneur and visionary, is slowly making a name for himself as the "Father of wireless drug delivery" through his innovations in delayed medication—a concept that's been talked about for decades, but few have found success in commercializing this highly complex field.
Robert Niichel was first the founder and CEO of zümXR, Nano Pharma Labs, before launching SmartTab in 2016. zümXR delivers nutritional supplement and beverage brands with the ability to control the release rate and stabilize a variety of ingredients, to improve nutrient delivery. In simpler terms, he created a tiny capsule that would extend the release and delivery of a supplement by telling the pill when and where to release.
Early Years
Niichel got his bachelor's degree from Iowa State studying finance and economics and after graduation, he dove into investment banking—his unassuming entry into biotechnology. He loved working with the industry and hit the books once again to get a graduate degree from the University of Colorado in Biochemistry. Niichel found the pharmaceutical industry fascinating and knew that it was an opportunity to improve people's health. After about 12 years researching, developing and project management in that space, Niichel was bursting with drive and ideas to found a startup—Nano Pharma Labs, later becoming zümXR .
As Niichel continued exploring this field and leading his team of scientists to success, his depth of knowledge and passion for discovery only grew. You can find many products that he engineered in those early days at GNC and Whole Foods today. But his gaze was always on the horizon, looking to what's next for not only the industry, but the people that his products serve. He wanted to help more on an even larger scale to live healthier lives. That fateful bike ride that got Niichel's wheels turning is changing medicine delivery technology forever.
Intelligent Design—SmartTab is Smart Technology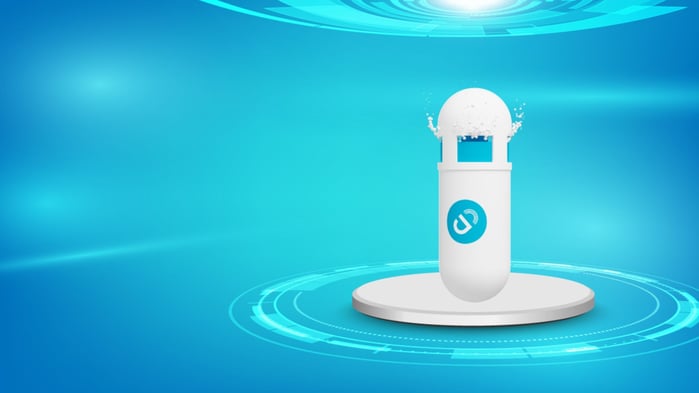 TargetTab™ ingestible capsule releasing payload doors upon activation from external device.
The SmartTab journey began with a mission to fearlessly combine all the different available digital health technology with a drug delivery platform—fearless because it's never been done before. Many in the industry doubted if it could be done, or simply said 'we don't have that technology yet.' It was a mountain no one wanted to climb, but Niichel went for it.
Just a few short years after the initial idea on that fateful bike ride, clinical trials are already happening, animal studies were successful, and journal articles are publishing SmartTab's stories of success revolutionizing the pharmaceutical industry and bringing next-generation ingestible technology to market.
From a Vision To Reality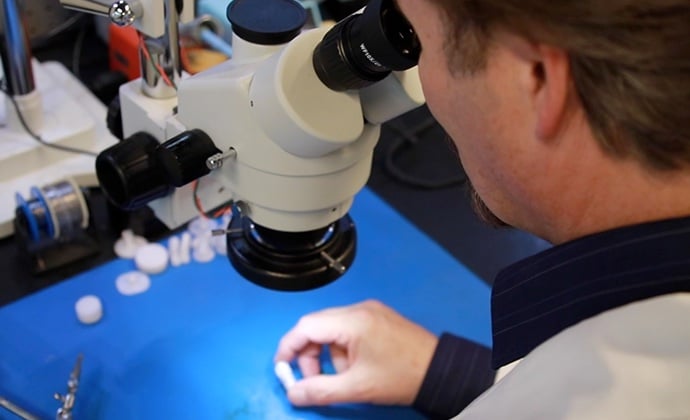 Douglas Miller, PhD, working in the SmartTab lab looking at the TargetTab™ version 1.0 utilized in the successful clinical study.
SmartTab began with Niichel's vision and has quickly grown into a respected and well-recognized team of engineers. The engineering team is led by 'Chief MacGyver,' as he's known around the lab. Chief Technology Officer, Douglas Miller, PhD, has spent his career crafting medical devices that are wirelessly powered and go inside the body. Perfection is not hoped for at SmartTab, it's expected. Building a product that is going into someone's body must be perfect. Masterminding groundbreaking technology that fits into a pill-sized shell sets them apart. There isn't another company in the ingestible technology space that offers the accuracy, precision, and capacity that SmartTab offers. Wireless drug delivery has not been attempted or achieved at this level before.
Novel Solution to An Age-Old Problem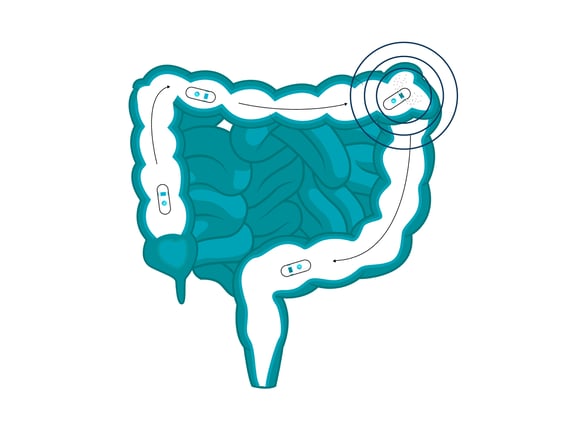 TargetTab™ releasing active ingredients in the targeted location.
SmartTab targets problems that are the most pressing for patients. People suffering from Crohn's Disease and other gastrointestinal problems could have their lives transformed for the better from TargetTab™ and InjectTab™. Targeted medication delivery, increased compliance, real-time monitoring, and lower toxicity are all integrated into these devices and the result is better health for millions.
TargetTab™ uses technology that is inductively powered (no battery) and connects wirelessly to a user's smart device and allows for the release of medication once the pill is in the most effective area to release. This has revolutionary potential for health and medication effectiveness in patients with Crohn's Disease, because the location of drug delivery in the stomach is vital with this issue. The full potential of other health ailments that could be treated is still being discovered and has incredible potential. TargetTab™ has already created buzz, getting highlighted in "Inflammatory Bowel Diseases Journal" and "Journal of Gastroenterology." These peer-reviewed medical publications proved TargetTab™'s success of concept in a PK Pre-clinical Animal Study. This is one of three different devices that SmartTab has in their lineup.
Vaccine Made Simple… AND PAINLESS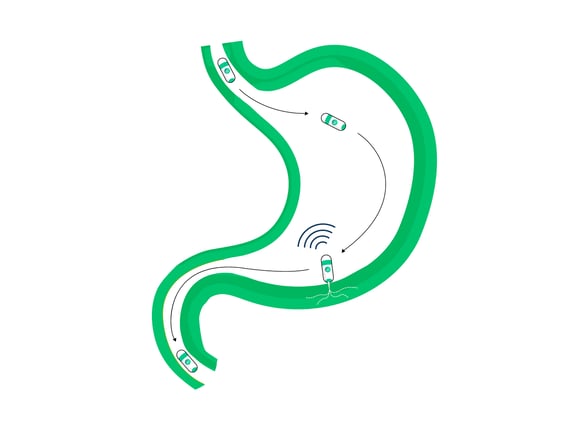 InjectTab™ releasing active ingredients in the targeted location.
Just imagine not having to go into a hospital or clinic to get vaccines. Instead of an anxiety filled process of scheduling and then going and getting a shot, your vaccine is sent to your door in a small container. Game changer. For diabetic patients, daily insulin injections are as easy as taking a multivitamin. No more pricks, no more needles.
InjectTab™ offers a system that guides the device to the highly vascularized greater curvature of the stomach, it performs a fast and painless injection through an implantable needle inside the capsule. This needle then uses slow and controlled release technology that gives the right doses of medication. Then, once the medication is fully released, the device is passed. This technology could be one of the most important inventions in the drug delivery and pharmaceutical landscape in decades. Bob expects to see fewer side effects with InjectTab™ compared to normal biologic injections as well.
"Because the patient will be receiving smaller, more targeted doses of the biologic more frequently, the kidneys and liver won't have to process such a huge dose at once. If you reduce the drug to a smaller amount, the impact of the side effects also lessens."

– Robert Niichel, CEO and Founder, SmartTab
The newest device that SmartTab is crafting is the MultiTab™. This multi-compartment capsule resides in the stomach for a week with active ingredients to release each day. The MultiTab™ is poised for clinical trials later this year and prototyping and design stages are complete.
The Wheels Keep Turning

For Niichel, SmartTab's mission is to change the world of patient-centric medication delivery. Their commitment extends beyond the lab too. Patient feedback and physicians' input along the way through focus groups has played a major role. Niichel deeply believes in advocating, listening and partnering with patients.
"This is not about a job, or just sales—this is a mission to get to market and see people use it. Even with COVID-19, you're jabbing people with 200-year-old technology. If you could deploy the COVID vaccine in a capsule, that would change the planet."

–Niichel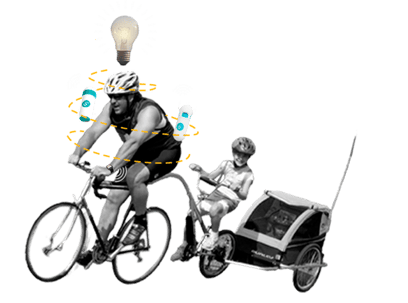 Niichel, healthcare entrepreneur and visionary, a wireless drug pioneer through his innovations of delayed medication delivery. He's dedicated his life to transforming drug delivery systems and takes pride in the fact that these revolutionary devices are being created in Colorado, not Boston, New York, or San Francisco. The Rocky Mountains coupled with Denver's spirit of adventure has made it the perfect home for SmartTab.
If you find yourself cycling on one of Colorado's passes, you'll have to dodge potholes, maybe brave a little traffic, and fight fatigue to be able to reach your summit.
Just like a tough bike ride, SmartTab's story has been a winding road, captaining the unknown. It's a necessary journey to create something life-changing. SmartTab will never stop in its tracks, because Niichel is determined to improve how humans take their medication pedaling toward a healthier future for himself, his family and the world.